New Star Soccer
4.16.5
A Very Addictive Soccer Game
Soccer is probably the most popular sports on the planet and is watched and played by millions of people from all around the world. The universality of the game is its biggest quality as almost all other sports don't enjoy as global an audience as soccer does. The popularity of the soccer game means that there are a number of developers who try to cater to the soccer loving audiences by making soccer games for mobile as well. There are various types of soccer games available on phones. While some games offer realistic match experience while others provide the chance of managing soccer teams, there is a lot of variety in the soccer games available. New Star Soccer is an interesting offering in this regard which looks to offer a unique experience for all soccer lovers.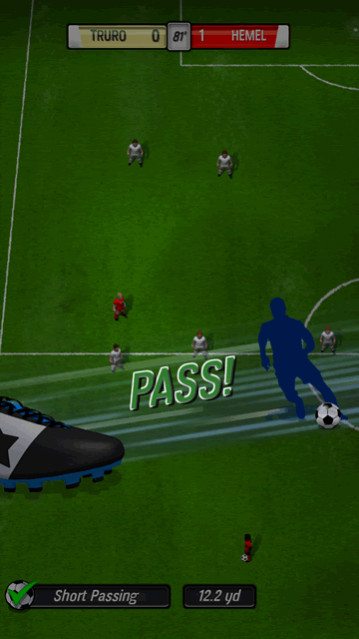 If you follow soccer and play it as well, it is obvious that you would have also dreamed about becoming a big player and playing for fantastic football clubs around the world. New Star Soccer looks to create a virtual environment where you can live your dreams. The basic idea behind this soccer game is to provide you a chance to begin your soccer career and move towards the goal of becoming a star soccer player who represents the best soccer clubs in the world as well as the national side.
New Star Soccer starts off with your information as well as your nationality. The game starts when you are 16 years old and just starting out at a conference level club in England's league. This is the lowest level and as you play games and improve your skills, you can then move to bigger football clubs and improve your stature and standing in the game. The basic idea is to not only play games but to also give the player the experience of training and how a star player lives his life. So, apart from the games, you are also required to train, keep the coach happy, keep your friends happy and maintain a great lifestyle so that you can have a girlfriend and can get good sponsors too. The game takes a holistic approach so the entire feel of a star soccer player is provided to the user playing the game.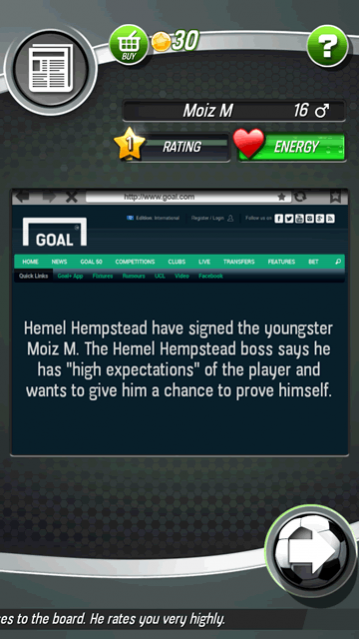 The game's main feature is the main soccer game itself. You won't be involved throughout the game as is the case in soccer games like FIFA. Here, you would be provided small chances within the game to make an impact. The chance basically involves getting headers or shots or passing opportunities. How you perform on each chance or opportunity decides your match rating and this match rating has an impact on your star level, your relationship with the coach, your relationship with the team and your relationship with the fans. If any of it goes down below a certain level, you will start to have problems within the game itself. You can ensure that you are prepared for your chances within the game by improving your skills with the practice sessions. All practice sessions cost a bit of 'energy' and you would energy drinks in order to keep up with the game requirements. The currency in the game is earned through playing games and you can then use this currency to buy energy drinks which will help you out.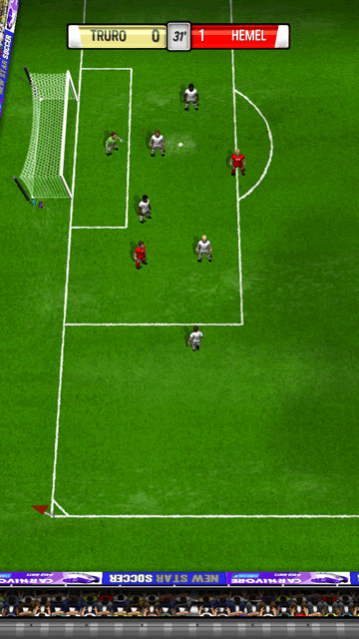 The game's graphics are fine as it is not exactly a realistic representation of what happens on a soccer pitch. The colors are nice though while the controls are very good.
Features:
Fantastic gaming mode with all aspects of a soccer player's life covered
Great career mode where every target must be met or consequences will be faced by the player
Difficulty progression is nice as the starting of the game is easier to help with the learning curve
Solid and interesting gameplay
Conclusion:
If you are a soccer fan and have always thought about the various aspects of a soccer player's life, New Star Soccer would give you a great chance of living that reality. With solid design, nice controls, great storyline and addictive gameplay, this soccer game has it all to keep you engaged for days!
---
Add a review
Tell us your experience with
New Star Soccer
4.16.5
RELATED PROGRAMS
Our Recommendations
---
---
---
---